Pickleball, the fastest growing sport in America due in no small part to its welcoming, egalitarian culture, is getting the country club treatment. A new private facility, aptly named The Pickleball Club, is slated to open this spring in Sarasota just south of Lakewood Ranch.
The 33,000-square-foot center on 2.4 acres will have 12 indoor courts (and two outdoor ones that are covered) made of the same material as those found at the U.S. Open Tennis Championships; 20-foot acoustical panels to mitigate the thwacks of paddles smacking perforated plastic balls; state-of-the-sport lighting that's 70% reflective to cut down on glare; and cameras covering every court for coaching and analysis. Add a cafe that sells sandwiches, snacks, beer and wine, a pro shop, locker rooms, on-site coaches and other amenities, and you've got a pickleball playground the likes of which has not been seen in these parts.
"We're absolutely the first indoor, pickleball-only club in the Sarasota-Bradenton area," says founder and CEO Brian McCarthy. "And I'm all but certain we're the only one in the state of Florida."
Most pickleballers are accustomed to showing up at public outdoor courts and joining in pickup games (called "open play") for free. By contrast, The Pickleball Club costs roughly $1,000 to join, then $100 a month in dues, plus additional fees for perks. McCarthy has good reason to believe that people will overcome any sticker shock. His evidence? A list of 1,900 people who've signed up in advance, plus 200 pre-paid members, as well as a raft of new homes being built in nearby Lakewood Ranch.
Robert Haskin, president of the 930-member Lakewood Ranch Pickleball Club, was one of those who got in early. "I'm intrigued by the private club atmosphere," he says. "It will open up different circles of people for me, different levels of competition." Haskin has played almost exclusively outdoors at Lakewood Ranch High School — for free.
As McCarthy sees it, the most important benefit The Pickleball Club provides is its most basic: indoor play. During Southwest Florida's extended summer months, the oppressive heat, humidity and exposure to the sun exact a heavy toll on players — especially seniors, who make up the sport's largest demographic. Rainstorms stop games and soak surfaces. A lack of lighted courts for night play is another local shortcoming. Plus, "the outdoor surfaces, which are usually asphalt or concrete, are really hard on the joints," says McCarthy, who is 77.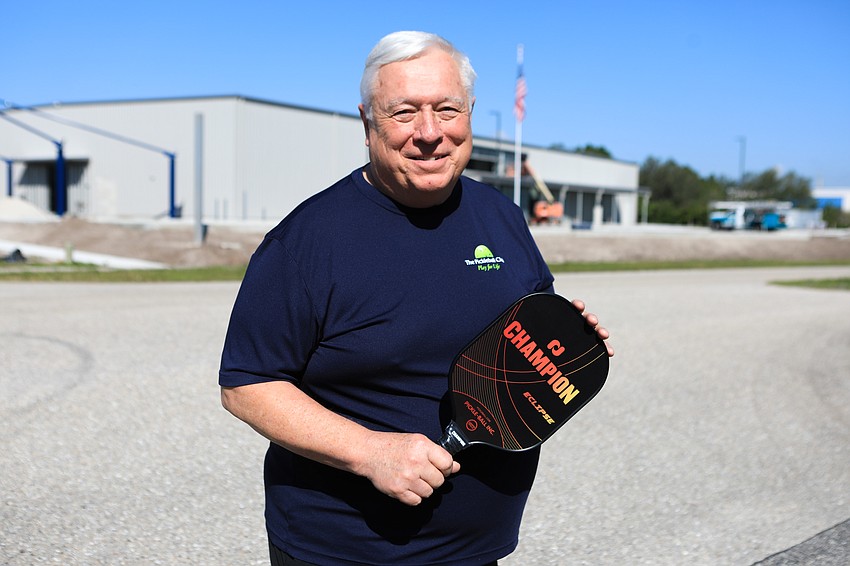 He and his wife, Valerie (who is the club's president and COO), foresaw pickleball's boom about five years ago. "I called Matt Gordon, my business partner (and the club's CFO) and told him there was opportunity to get in early in an industry that was starting to take off — pickleball," McCarthy recalls with a chuckle. "He said, 'What's pickleball?' Brian, you're nuts.'"
Undeterred, McCarthy, a real estate developer who retired from the Navy as a rear admiral and has an MBA from Harvard, forged on with market research, part of which was an email survey of 4,000 pickleball players in the Sarasota-Manatee area. "The number one issue was that people wanted to play indoors at least a third to 50% of the year," he says.
McCarthy and Gordon incorporated The Pickleball Club on Oct. 24, 2019. Five months later, COVID-19 shut down the world. "We were concerned, of course," says McCarthy. "But, not to be insensitive, it was the best thing that ever happened to us."
Pickleball became the pandemic's go-to social distancing sport. Unlike tennis or golf, newcomers can learn to play and compete in games the first time out. According to a 2022 report from the Sports & Fitness Industry Association, pickleball grew nearly 40% in two years, nearing 5 million players and officially becoming the country's fastest growing sport.
Along with that has come growing pains. Wait times at public courts can be frustratingly long. Open play routinely pairs advanced players with beginners, causing tension. The Pickleball Club aims to cure those ills with software that groups together players of similar skill and allows advance scheduling to reduce wait times. Unlike the handful of local rec centers and YMCAs that offer indoor pickleball two or three mornings a week (and halt them in the summer when children's programming is in session), The Pickleball Club will be open from 6 a.m. to 11 p.m. every day. McCarthy couldn't say for certain what the cap on membership would be — he estimated 1,000 to 1,200 — but promises that member experience will always win out over sheer numbers.
The Pickleball Club is the first salvo in what the owners hope will become an indoor pickleball empire. The company has acquired land in Port St. Lucie, Bonita Springs and Fort Myers, and plans to open locations there this year. That's just part of a first phase that aims to raise $180 million in capital and establish 15 clubs in Florida.
Some pickleball enthusiasts may lament that their beloved sport, so prized for its inclusivity and loose vibe, is starting to go snooty. Not Haskin, who heads a club that costs $15 a year. "I just look at The Pickleball Club as a natural progression, a new way to expand your pickleball universe," he says. "And the public courts are still there, with new ones coming online. The Pickleball Club membership could help ease bottlenecks on those courts."
Visit full article here: https://www.yourobserver.com/news/2023/feb/15/new-pickleball-center-gains-a-following/